Gowrie Burgee Insurance Program for Yacht Clubs & Sailing Organizations
Yacht Clubs and Sailing Organizations are complex, multifaceted entities. Your sailing organization and its leaders, employees, members, and guests face broad and varied risks, on and off the water, during the day, and during the night. You need a marine insurance partner with specialized, integrated marine expertise that understands that each sailing organization and operation is unique and its assets and activities can include beautiful clubhouses, leased properties, extensive dock systems, large dry sail areas, boat hoists & ramps, trophies and fine arts, adult and youth instructional programs, swimming programs, member and non-member opportunities, marine assets & club-owned boats to support junior instruction and robust racing programs, dining services, fuel services, weddings, and active social events, just to name a few. Additionally, with storm frequency and storm intensity increasing in all parts of the US, having superior protection is critical, especially in exposed coastal areas and locations prone to flooding, extreme wind, and severe weather of all types in all seasons.

The Burgee Insurance Program provides comprehensive insurance designed specifically for yacht clubs, community sailing programs, and sailing organizations. Endorsed by US Sailing and underwritten by Chubb, the program is managed exclusively by marine insurance experts at Gowrie Groups | Risk Strategies. The program protects not only the organization, but also the board members, flag officers, volunteers, members, and employees. The majority of sailing organizations in the nation are currently part of The Burgee Program. US Sailing members are eligible for a 10% discount on the marine components of the program. Gowrie Group is the Official Insurance Partner of US Sailing and the US Sailing Team.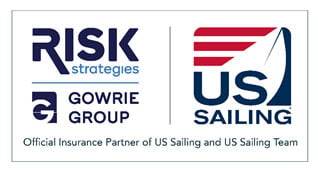 A Sampling of Available Protection Includes:
Liability coverage for races, regattas, and cruises
Hull and liability coverage for club-owned, borrowed, and chartered boats
Sailing instruction coverage, for teaching juniors and adults
Race management errors and omissions coverage
Coverage for buildings, contents, and historical assets of the club
Piers and docks coverage, including wave wash and flood coverage
Workers' compensation coverage for injuries to employees and volunteers
Auto liability coverage for club-owned vehicles and trailers
Jones Act coverage for employees working on the water
Pollution and fuel spill coverage (accidental and sudden)
Club members, employees, and volunteers named as additional insureds
Additional liability coverage for directors & officers, employment practices, fiduciary, and crime
Safety Resources Available through the Burgee Program
We provide sailing organizations with a complete suite of safety materials and resources. These resources include an Emergency Action Plan Template, Junior Sailing Safety Guide, Club Safety Manual, Dock Safety Tips, Drone Safety Resources, and a Hurricane Response Plan Template. To request an editable copy of any of these resources, or to learn how The Burgee Insurance Program can help better protect your sailing organization or community program, reach out to us at burgeegowrie@risk-strategies.com (please include your name, club/program name, city, and state).
Advantages of Being Protected by the Burgee Insurance Program
Exclusivity. Exclusive insurance program developed for sailing organizations
Elite affiliations. Endorsed by US Sailing and underwritten by Chubb, the premier marine underwriter.
Expert advisors. Team of expert marine insurance advisors who are yachts-people and yacht club members themselves.
Service focus. Dedicated, licensed account manager for an account.
Customized solutions. Creative solutions for the unique and complicated risks faced by sailing organizations.
Safety programs. Access to Gowrie's proprietary Yacht Club and Junior Sailing Safety programs.
Loss control. Safety, loss analysis, and risk management analysis.
Claims advocates. Expert claims managers who ensure quick and fair resolutions.
Yes, sailing organizations need liquor liability insurance. Smart risk management means your sailing organization should take action to ensure liquor procedures and policies are in place to ensure your members, guests, and sailors drink responsibly. Alcohol related risk management procedures are important. Your organization also needs the right insurance protection. If your sailing organization sells, serves, or furnishes alcoholic beverages, you likely need Liquor Liability Insurance. Even if your club does not have a bar, "Host Liquor Liability" insurance may not be enough. Other consideration include:

Know your local & state liquor ordinances: Liquor laws vary by local and state liquor ordinances; your organization may need a Liquor License or Permits.
Basic risk management procedures matter: Here are just a few suggestions to get you started, there are many more. Use wristbands to distinguish minors from adults – coverage is void if knowingly serving minors. Require your staff to be TIPS trained. Always offer something to eat when serving alcohol. Make cold bottled water and seltzer visible and readily available when serving alcohol (for free if you can)!
Verify your umbrella policy coverage: Make sure you have adequate limits and that it covers over your liquor policy.
Secure the right insurance coverage: If your club sells, serves, or furnishes alcoholic beverages, you need Liquor Liability Insurance. Even if your club does not have a bar, "Host Liquor Liability" insurance may not be enough. If your club is like most – and you bill members for parties, use regatta drink tickets, or provide a keg after races – then your club should be considering a full Liquor Liability policy. The Burgee Insurance Program by Gowrie Group includes the Liquor Liability Coverage that your club or sailing organization needs.



Subscribe and get the latest in your inbox.