Stewards for the Greater Good
Our company takes seriously the environmental and social responsibility we have to be a good corporate citizen. We are committed to being stewards of social responsibility by enhancing the quality of life for our employees, the community, and the world at large.
Environmental
We believe in protecting the environment and instilled a greater commitment to sustainability in recent years.
The Ways of Working program was our response to the COVID-19 pandemic and remote work. We learned we could run our business, serve our clients, and work successfully in a remote environment and led the insurance industry in embracing new working options.
Today, more than 70% of our employees continue to work remotely. This program has positively impacted morale and productivity and supports our goal to be a destination workplace. It is also a major sustainability initiative that contributes to a reduction of our carbon footprint, greenhouse gas emissions, and the use of paper and plastics.
Continuing our commitment to the environment, we also have a five-year plan to reduce our real estate footprint by 50%, furthering our sustainability efforts.
A Focus on Conservation
Conservation is an emerging initiative for us as we identify opportunities for meaningful change.
Inspired by our CEO John Mina's commitment to conservation, we have partnered with Conservation Nation to support wildlife conservation and take steps to save the planet.

Please click the link to read a special blog post from John. He discusses how breaking barriers leads to growth and making a difference for our planet.
From our CEO: "Breaking Barriers"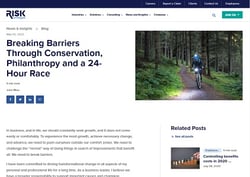 Read John Mina's Blog
Social Responsibility
We have a social responsibility to enhance the quality of life for others by creating and sustaining an inclusive, productive, and rewarding culture for our employees as well as giving back to the communities where we live and work.
Diversity, Equity & Inclusion: We are committed to creating and sustaining an inclusive, productive, and rewarding culture where we focus on collaboration, respect, and diversity of perspectives. We recognize that by honoring our history and the attributes that make us unique, we position ourselves to provide better outcomes for our associates, their families, our clients, and our business partners. When we share, listen, and learn; we allow all of our voices to "BeHEARD."

Learn more about our commitment to diversity, equity & inclusion.


Community Giving: We were founded with a commitment to social responsibility and making a difference in our communities. The Risk Strategies Foundation encourages all employees to actively participate in charitable activities to support the communities where we live and work. All employees receive volunteer paid time off to support their local community. We are inspired by our employees' efforts to make the world a better place.

Learn more about our community support through the Risk Strategies Charitable Foundation.
Governance
Guided by our foundational values, strong corporate governance has remained a core focus as we continue to grow.
Governance starts with our Board of Directors and cascades to our management team and every employee. Our Board oversees the senior management team, meeting regularly to provide guidance on strategic decision-making and risk management matters.
With the support and oversight of the Board, we have developed additional governance bodies:
An Executive Committee consisting of key leaders from a range of functions and business units to whom regular reporting and updates on matters including business strategy, risk management, human capital matters, cyber security, ESG initiatives, ethics and compliance, and regulatory matters.
Various task force bodies are led or sponsored by members of the executive team in the areas of diversity, equity & inclusion, business continuity, workforce management, and sustainability.