Family Building Benefits – New Territory for Creating a Strong DE&I Strategy
As Diversity, Equity & Inclusion (DE&I) efforts become a key performance measure, many organizations are considering their DE&I and Environmental, Social & Governance (ESG) values and boardroom metrics to build their total rewards strategy, which includes employee benefits.
Learn why family building benefits represent an area to consider as part of your corporate DE&I strategy, including:
• How fertility benefits are broadening, as is the definition of family
• Why parental leave, essential for establishing healthy family bonds, lacks a clear roadmap
• How to assess if adding family building benefits make sense for your organization
Offering family building benefits is new territory for many organizations. Download the white paper, Family Building Benefits & Policies – New Territory for Creating a Strong DE&I Strategy, and see the way forward.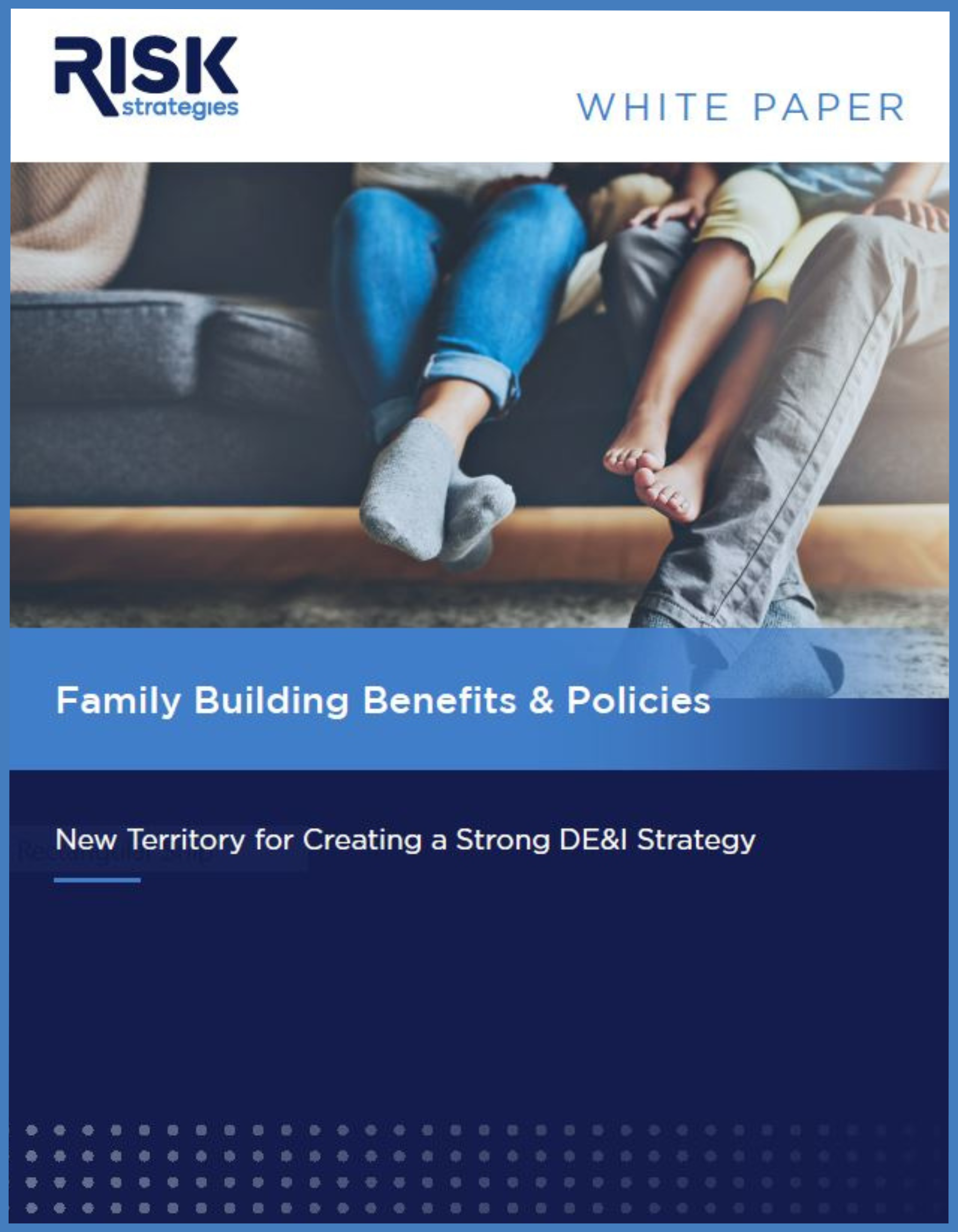 ABOUT RISK STRATEGIES
With more than 10,000 clients managed in our National Employee Benefits Practice, Risk Strategies delivers the high-quality, cost-effective, and compliant benefits programs and solutions employers need and employees value. Visit risk-strategies.com for the latest observations in employee benefits.
Risk Strategies is a specialty national insurance brokerage and risk management firm offering comprehensive risk management advice and insurance and reinsurance placement for property & casualty, employee benefits, and private client services risks. With more than 30 specialty practices,
Risk Strategies serves commercial companies, nonprofits, public entities, and individuals, and has access to all major insurance markets. Ranked among the top brokers in the country, Risk Strategies has over 100 offices including Boston, New York City, Chicago, Toronto, Montreal, Grand Cayman, Miami, Atlanta, Dallas, Nashville, Washington DC, Los Angeles, and San Francisco. riskstrategies.com.